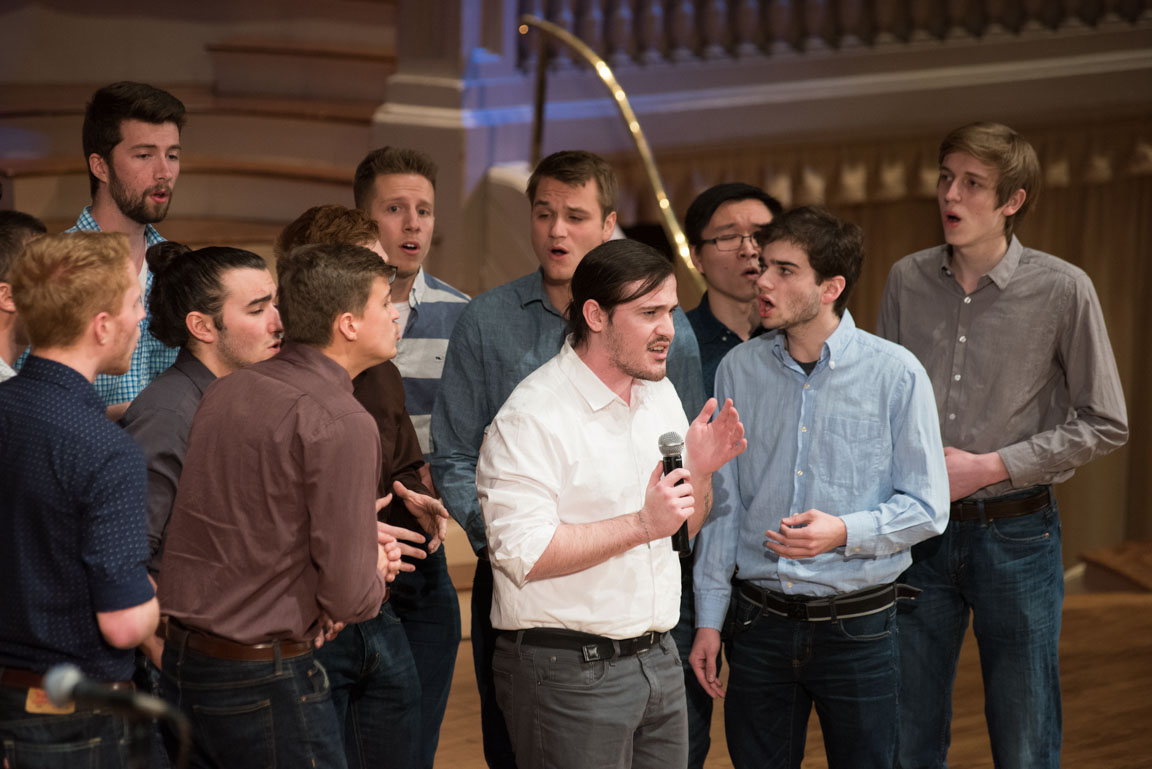 Wec'appella 2018
On April 7, 2018, the Worcester Education Collaborative hosted the third annual WEC'apella at Mechanics Hall.
WEC'appella 2017
The second annual WEC'appella competition rocked Mechanics Hall on Saturday, April 8, 2017 as four high school a cappella groups and five college groups showcased their vocal abilities in a fundraiser for WEC.
WEC'appella is a signature event for Worcester families and students who love music and their schools. It's the only a cappella competition in the city and celebrates this challenging art form mastered by high school and college singers.
An audience of more than 500 filled the floor and balconies of Great Hall. The MC for the event was singer Noah Lis of Springfield, a former competitor and member of Team Blake on "The Voice." Judges were: Richard Duckett, entertainment reporter for Telegram & Gazette; Ruth Berman who performs with the female a cappella quartet Boston Accent, past winners of the Harmony Inc. International contes and Brett Maguire, assistant director of the Worcester Chorus, a frequent organ soloist and collaborator. He regularly accompanies the Master Singers of Worcester, the Assabet Valley Mastersingers, the choirs of All Saints Episcopal Church, the Assumption Chorale, and the Worcester Children's Chorus.
The high school winning group was Quadrivium from Burncoat High School. They sang "Angel" and "Down on the Corner." Members of the group are: Joe Adade, Martlyn Adu, Kayla Amegbe, Ewart O'Neall Bannock, Alexandra Beaudoin, Colby Croteau, Adeline Dwyer, Quinlan Fitzgerald, Abigail Friedline, Isaiah Gomez, Natalia Jones, Brett Levesque, Ryan McCarthy, Samantha Meunier, Miriam Nortey, Andrew Persson, Kaitlyn Resener, Madeline Rich, Stephen Rivera, Jaden Scott and Kylie Thomas.
The college winners, Hound Sound from Assumption College, sang "Elastic Heart" and "If I Ever Fall in Love." Members are: Izzy Camasura, Sarah Clancy, Julie Craven, Meaghan Creedon, DeAnne Duquette, Delaney Fenton, Cole Foster, Deirdre Gunning, John Killian, Gretchen Lynch, Giancarlo Maglitta, Reb Mariano, Holly Olson, Jennifer Rios, Pamela Rios, Talia Rossi and Rob Yirgian
WEC'appella was generously sponsored by the following organizations:
Treble Clef
Niche Hospitality Group
C Clef
Mechanics Hall
Unum
Worcester Arts Council
Bass Clef
Anna Maria College
Quinsigamond Community College
Reliant Medical Group
Unibank
Worcester Business Development Corporation
Worcester Polytechnic Institute
Patron
Bay State Savings Bank
Bowditch & Dewey
Commerce Bank
Harvard Pilgrim Health Care
United Way of Central Massachusetts
Webster Five
Worcester State University
Media Sponsors
Telegram & Gazette
WICN